Sydney is the capital city of New South Wales and home to the iconic Sydney Harbour Bridge and Sydney Opera House.
Whilst Sydney is seen as an expensive destination by many there also lots of free places to visit or activities to enjoy.
Art Options
If you're interested in art there are a number of free options:
The Art Gallery of New South Wales has a collection of modern and contemporary art from Australia and around the world. Displayed in light filled space the Gallery also offers stunning views of the Harbour.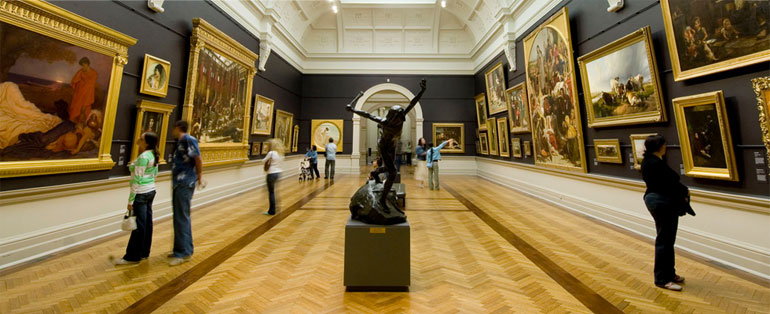 Tours of the Gallery's permanent exhibits, exhibition talks, music, film and children's activities are all free. Entry fees (approx $10) apply for special exhibits such as the Archibald Prize exhibition.
With a cafe, restaurant and shop there's plenty to keep you busy and spend some money if you're inclined.
The Gallery is located on the eastern side of Sydney's CBD next to the Royal Botanical Gardens and the Domain.
Another option is the Museum of Contemporary Art where you'll see modern art in this recently redeveloped Museum. Located at Circular Quay one of the most iconic location in Sydney, the Museum overlooks Sydney Harbour Bridge and the Sydney Opera House.
The MCA has a continually changing display of exhibits ensuring there is always something interesting to see. Volunteer guides provide free tours to assist you discovering the art and the artists.
Special exhibits are at a cost of approx $20 per person.
Historic options
If history interests you visit Government House which is located alongside the Botanical Gardens with stunning views of the Harbour and the Sydney Opera House.
Built in the Gothic Revival style, Government House has predominately been the official residence of the Governor of NSW since 1845. It includes an outstanding collection of 19th and 20th century furnishings and decorations.
Open to the general public since 1996 the House can only be accessed via guided tour Friday to Sunday.
The Rocks Discovery Museum
tells the story of The Rocks area of Sydney from pre-European days to present. The Museum is in a 1850's sandstone warehouse where you can see and experience a range of images and archaeological
artefacts, interactive touch screens and audio visual displays.
Open from 10 a.m. to 5 p.m. everyday except
for Good Friday and Christmas day you will find the Museum in Kendall Lane, The Rocks.
ANZAC Memorial located on the southern edge of Hyde Park is the main commemorative military monument in Sydney. The building was designed by C Bruce Dellit and the exterior adorned with figural reliefs and sculptures by Rayner Hoff.
Open every day 9 a.m. to 5 p.m. except for Good Friday and Christmas day.
The Mint provides an insight into Australia's first coining factory and also houses the Caroline Simpson Library and Research Collection, a gift shop and cafe.
The Mint is located at 10 Macquarie Street Sydney and open Monday to Friday 9 a.m. to 5 p.m.
Gardens and Walking options
No visit to Sydney is worthwhile without visiting Circular Quay home to the Sydney Opera House and Sydney Harbour Bridge.
Indigenous music at Circular Quay
Wandering around this area is free and you'll often find lots of buskers entertaining visitors. There are also many cafes, restaurants and take away food options on both sides of Circular Quay.
You can also walk across the Sydney Harbour Bridge to the North shore and see this area from a different perspective. Walking across Sydney Harbour Bridge
The Botanical Gardens are certainly worth a visit. Located on the edge of Sydney Harbour the Gardens span 30 hectares and house an outstanding collection of plants from Australia and overseas.
Early morning on the edge of the Harbour and Botanical Gardens
I love to wander through this area whenever I visit Sydney and have time to explore. Many people also use the area to keep fit - walking or jogging and enjoying an amazing view along the way.
The Gardens include a range of feature gardens; herb gardens, rainforest walk, palm grove and pioneer garden to name a few.
A range of activities are also regularly on in the Gardens find out more
Hyde Park Gardens is Australia's oldest park and host to many cultural events including the Sydney Festival, Australia Day, ANZAC Day and the Food and Wine Fair.
Much smaller than the Botanical Gardens the park is interesting as it features a central pedestrian walkway from Macquarie Street to the ANZAC Memorial.
If you're interested in exploring further a field take a bus to Bondi or a ferry to Manly will allow you to experience some other interesting walks.
Bondi to Bronte walk
Manly and northern beaches walk
To assist in getting from one destination to another there is a free CBD
bus shuttle
that runs on a regular basis.