One of the great things about visiting our nation's capital city - Canberra is the fact that many attractions are free.
Australian War Memorial
One of my favourites is the Australian War Memorial. Not as a celebration of war but because its a haunting reminder of the sacrifice people make in war time and a testament to the courage of the individuals and Australia as a nation.

Walking up the steps and into the Commemorative Area and seeing the Roll of Honour lined with poppies to remember the fallen is just the start of a the journey of understanding Australia's war history.

I also particularly admire the tomb of an unknown solider as a sombre and reverent resting place for the remains of this unnamed soldier. The remains were removed from a cemetery in France and transported back to Australia in 1993.

You need to allow at least a day to be able to see all the exhibitions which include the First and Second World Wars as well as more recent conflicts.There are also range of special exhibitions in the Memorial; to find out current information see their Exhibitions page.

The view along ANZAC Parade to Parliament House is also a spectacular sight.

The War Memorial is open 8.am. to 5 p.m. daily - closed Christmas Day.
Canberra Space Centre

Our children's favourite place in Canberra is the Space Centre located in Tidbinbilla which is about a 35 kilometre drive from the city.

Here you can see the deep space antennas (Deep Space Stations) each identified by a number sequence relevant to their country of location. In Australia ours are numbered in the 30s and 40s. The antennas receive and transmit data to robotic spacecraft exploring our solar system - something I find fascinating.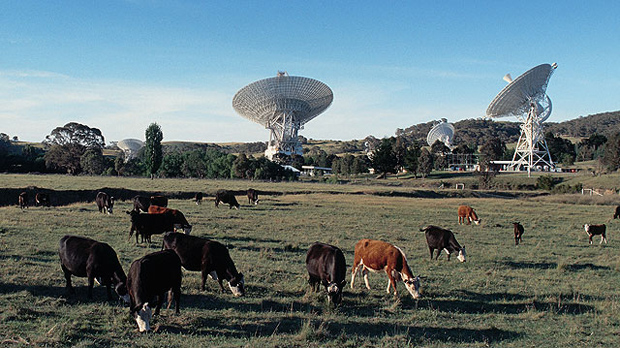 At the visitor centre displays include a 3.8 billion year old piece of the Moon, spacecraft models, space hardware and memorabilia including the foods astronauts eat, movies
on space exploration and the latest images from across the solar system.

We always take a picnic but the centre has a cafe. Open 9.am. to 5 p.m. daily - closed Christmas Day.
Parliament House
No visit to Canberra would be complete without visiting Parliament House where both Houses of Parliament sit. The design of Parliament House is impressive and positioning it on top of a hill overlooking Canberra makes sure it can be seen from many locations and is a constant reminder of the important business that is conducted within.
You can wander the public areas of Parliament House and see Parliament in action if your visit coincides with a sitting day. The impressive red chamber is where the Senate sits and shares the power to make laws with the House of Representatives. Debating in the equally impressive green chamber is the House of Representatives. Here they debate, pass laws and watch over government administration and expenditure.

You can also take a guided tour.

The building itself is impressive and within its walls there is a stunning art collection which includes a very impressive tapestry which hangs in the Great Hall. The gardens and surrounds of Parliament House are also worthwhile exploring.

The view from outside along ANZAC Parade to the National War Memorial is also a spectacular sight and demonstrates how well designed or planned the location was.

Opening hours vary on sitting days from 9.00 a.m. Monday and Tuesday and from 8.30 a.m. Wednesday and Thursday. When Parliament is not sitting its open from 9.a.m. to 5 p.m. Closed Christmas Day.
Old Parliament House
Down the hill from Parliament House is Old Parliament House where Parliament sat from 1927 to 1988. The building now houses the Museum of Australian Democracy. This Museum has displays that show Australia's social and political history through interpretation of the past and present and exploring the future.
Although not free entry is relatively cheap $2 for adults and $1 for children.
Open daily 9 a.m. to 5 p.m. Closed Christmas Day
On either side of the building are the Old Parliament House Gardens which are lovely to wander through. The Gardens include seating pavilions, pergolas, rose arbours and pathways.
The National Museum of Australia explores the land, nation and people of Australia. It focusses on Indigenous histories and cultures, histories of European settlement and their interaction with the environment.
You can wander the Museum at your leisure and there are a range of free Host talks throughout the day (check with the information desk on timing) or you can take a guided tour at a cost.
The Museum is open every day from 9 a.m.-5 p.m.
except for Christmas Day.
If art and culture interests you the National Gallery of Australia has a permanent collection of more than 160,000 works of art including Aboriginal and Torres Strait Islander art, Australian art and International art.
A range of special exhibitions constantly change see the exhibitions page for more information.
Whilst entry to the Gallery is free special exhibitions will often come at a cost.
Open daily from 10 a.m. to 5 p.m.
National Portrait Gallery
Located just across the road from the National Gallery of Australia is the National Portrait Gallery. The Gallery's purpose is to broaden the understanding of Australian people through portraits that display our identify, history, culture, creativity and diversity.

My favourite is a very compelling portrait of blind indigenous singer Geoffrey Gurrumul Yunupingu by Guy Maestri. This portrait also won the Archibald Prize in 2009.


For information on current exhibitions
Open daily from 10 a.m. to 5 p.m. some special exhibitions will have entry fees.
Royal Australian Mint

For something completely different visit the Royal Australian Mint where all the coins in Australia are made. Here you can wander the observation gallery to see how coins are produced, see the rare and significant coin collection or watch a behind the scenes video in the theatrette. You can even mint your own $1 coin.

Open Monday to Friday 8.30 a.m. to 5 p.m. Saturday Sunday and Public Holidays 10 a.m. to 4 p.m. closed Christmas Day and Good Friday.
National Film and Sound Archive
This is said to be Australia's living archive as it displays images and sound from film, television, radio and other recordings that reflect Australia's life stories and place in the world.
The Archive includes a range of sound and film galleries and regular presentations. Find out more about current exhibitions.
Open daily from 9 a.m. to 5 p.m. weekdays and 10 a.m. to 5 p.m. on weekends.
Australian National Botanical Gardens
The Australian National Botanical Gardens are located on the lower slopes of Black Mountain in Canberra. Established as a place for recreation and learning the gardens have the world's most comprehensive display of Australian native plants.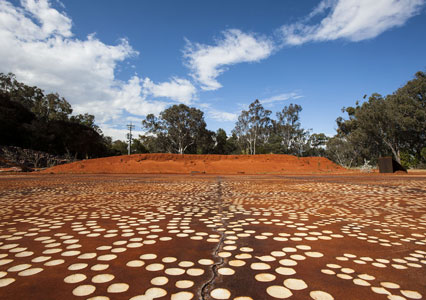 Displays include the Red Centre Garden which has plants such as majestic desert oaks, ghost gums and spinifex grasslands.

Entry to the Gardens are free. They are open daily from 8.30 a.m. to 5 p.m. (8 p.m. week days in summer) closed Christmas day.
Telstra Tower

If you're looking for great view of Canberra go to the Telstra Tower on Black Mountain. The tower stands 195 meters tall and has stunning 360 degree views of Canberra and surrounding areas.
You can also enjoy a coffee or snack at the cafe located at the Tower which is open 365 days a year from 9 a.m.
Embassies
Another great free attraction in Canberra is take a drive around the Embassies. Many buildings reflect the culture of the Countries they represent.
National Carillion

The National Carillon located on Aspen Island in Lake Burley Griffin was a gift from the British Government. The Carillion stands 50 metres and is a musical instrument with 55 bronze bells.
You can hear recitals Wednesday and Sundays 12.30 to 1.20 p.m.


Entry is free.
Parks and Recreation
There are a range of parks in and around Canberra where you can walk, cycle or just relax and enjoy nature.

There are self guided walks, Ranger guided walks and of course you can also relax and enjoy Lake Burley Griffin which Canberra is built around. The Lake is also a site for many Canberra celebrations including Fireworks on Australia Day (26 January).