Darwin is the capital city of the Northern Territory a sophisticated city that retains its relaxed charm. Here are some ideas of what to do in Darwin for free.
Mindil Beach
Mindil Beach is Darwin's most popular beach and an amazing place to be at sunset or sunrise. Mindil Beach is the location for many celebrations including Territory Day with its stunning fireworks and the Darwin Beer Can Regatta.
The beach is also the site of the famous
Mindil Markets
where you have an opportunity to enjoy the balmy Darwin evenings and taste an amazing selection of cuisines or browse the large range of art and craft stalls.
The market is held in the dry season on Thursday evenings 5 p.m. to 10 p.m. and Sunday from 4 p.m. to 9 p.m.
Leanyer Recreation Park
Located on Vanderlin Drive, Leanyer this Park is an amazing place for family fun. The Park has 3 massive water slides, a water park, water playground and swimming area. There is also a playground, skate park and a half basketball court.
You can enjoy a picnic, cook a BBQ on the free BBQ plates or eat in the Cafe.
George Brown Darwin Botanical Gardens
Surviving the attacks on Darwin during the 2nd World War and the ravages of Cyclone Tracy the Gardens include marine and estuary plants, North Australian monsoon flora and a range of other tropical plants.
The Gardens are located in the Fannie Bay area and open every day 7 a.m. and 7 p.m.
Charles Darwin National Park
A relatively new Park located in an area of cultural significance to the Larrakia people who used the land for thousands of years as evidenced by the shell middens found in the Park.
The Park includes picnic grounds, walking and cycling tracks and a WWII display centre showing Darwin's role in the Pacific War.
The area includes bunkers and shelters used for storage between 1941 to the mid 1980's.
The park is open from 8 a.m. to 7 p.m.
Fannie Bay Gaol
Operating as a Goal and Labour Prison from 1883 until 1979 a visit to the Goal provides macabre insights into the harsh reality of prison life. Inmates included lepers, refugees, juveniles and the mentally ill.
Exhibits also include video footage and pictures of Cyclone Tracy and the aftermath, the female prisoners section, mess area and the gallows where prisoners were executed until 1952.
Located on East Point Road the Gaol is open daily 10 a.m. to 3 p.m. Closed Christmas Day, Boxing Day, New Years Day and Good Friday.
Northern Territory Library
The Library has a wide collection of print and electronic resources to explore in a relaxed environment. They also provide a wide range of exciting displays and events.
Open Monday to Friday 10 a.m. to 5 p.m. and Saturday 1 p.m. to 5 p.m. but closed during Christmas.
Museum and Art Gallery of the Northern Territory
The Museum and Art Gallery includes
Aboriginal, Southeast Asian and Oceanic collections featuring
material and art from the Northern Territory's history.
There are also regular special exhibitions but entry fees may apply.
The Museum is open Monday to Friday 9 a.m. to 5 p.m. and weekends and public holidays 10 a.m. to 5 p.m. Closed Christmas Day, Boxing Day, New Years Day and Good Friday.
Public Art
While I'm talking about Art there is a range of Public Art on display in the Darwin Waterfront Precinct. The Waterfront area also has a range of hotels, restaurants, the historic Stokes Hill Wharf and is the location of many events.
Lyons Cottage
The cottage was built as the residence of the company engineer of the Australasian and China Telegraph Company and is the only surviving example of colonial bungalow architecture in the city.
The Cottage displays historical photographs and exhibits providing insights into pearling, maritime history, early exploration and the Telegraph Station.
The Cottage is now run by The Aboriginal Bush Traders and you can buy arts, crafts, clothing and gifts.
The Cottage is open Monday to Friday from 9 a.m. to 3 p.m. Saturday and Sunday 9 a.m. to 1 p.m.
Berry Springs Nature Park
The Nature Park protects part of the Berry Creek catchment area which flows into Darwin Harbour. There are a number of walking tracks through the Top End's Natural wildlife habitat where you can enjoy the birds and natural plant life.
You can also enjoy a swim and see the weir and a number of huts that were established by the Armed Forces during the Second World War.
Berry Springs is approximately 40 minute drive south from Darwin.
Litchfield National Park
If you're travelling a little farther from the city Litchfield National Park is an easy 90 minute drive from Darwin. I love this NP as its still unspoilt with stunning landscapes and rich in cultural history.
There are a range of areas perfect for picnicking including Grennant Creek, Tabletop Swamp, Wangi Falls, Walter Creek and Florence Falls.
One of my favourite places is Bluey Rockhole where you can just sit and relax whilst the water washes you.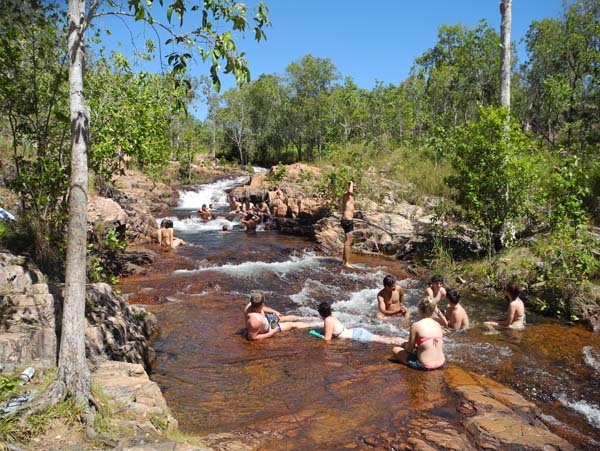 A kiosk is located at Wangi Falls.